Machine room-less (MRL) home elevators save space so they are very attractive to homeowners who want to keep as much of their living and storage space as possible. We offer a couple of options for MRL home elevators so we are confident we have a mobility solution for you, your family, and your home.
Option 1: Machine Room-Less Traction Elevators
Our Savaria Eclipse MRL traction elevators for residences save space because the motor of the elevator is located in the shaft above the rails eliminating the need for a separate machine room. The drive is inside the controller and typically located at the top.
If you do not have the space for a machine room but want a larger elevator cab with higher load capacity than the Eclipse, our other MRL home elevator option, the Savaria Orion MRL elevator, can be the answer for your mobility needs. ,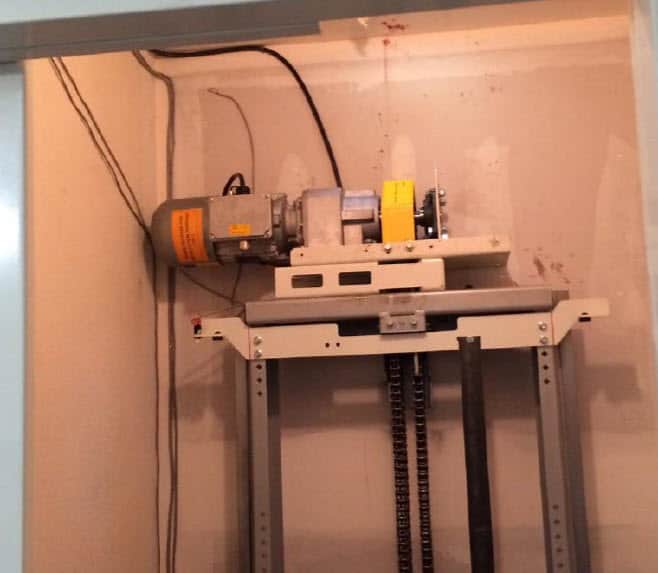 Savaria Eclipse MRL Home Elevator Benefits
Our top quality Savaria Eclipse MRL home elevator option offers:
Smaller footprint compared to an elevator with a machine room
Cab size typical of traditional home elevator
Excellent option for homes located in areas prone to flooding as the equipment is located at the top of the hoistway
Low energy consumption
Custom design and aesthetic options configured to complement need and budget, , use our Savaria Eclipse elevator cab configurator to explore the design or your MRL residential elevator
Manufactured and installed per current industry code standards
Our MRL residential elevators from Savaria offer flexible mobility solutions:
6 stops over a maximum travel distance of 50′ – 60′ depending on local code
Capacity up to 950 lbs (Note Eclipse HD version available for higher capacity)
Landing openings can be configured for same-side, straight-through, or 90º entry and exit, depending on the layout needs of your home
Innovative hide-away gate system maximizes entryway and interior space.
Standard features: fully automatic operation, , automatic cab on/off interior lighting, digital display in car operating panel, surface-mount telephone, Oxford white ceiling with 4 LED pot lights, melamine interior in choice of colors
Standard finishes: Flat melamine or unfinished MDF if on-site customization is desired, clear or bronze anodized aluminum cab operating panel and hall call stations, double plywood floor, Oxford white ceiling
Safety features: Battery operated (UPS) emergency lowering and lighting, hand-crank manual lowering, motorized braking, lockable control panel, elevator door interlocks, emergency stop switch, in-use indicator lights on hall stations, slack chain brake system.
Option 2: Pneumatic Vacuum Elevators (PVE)
Vacuum elevators utilize a pump to create a vacuum above the elevator car causing the car to rise. To descend, a valve releases air into the chamber above the cab equalizing the air pressure enabling the car to descend. No shaft or components like a drive system are required so vacuum elevators are an MRL home elevator option we offer.
Not only are PVE elevators machine room-less, they also have no shaft or pit. With no shaft, they take up much less space than a traditional elevator including our Savaria Eclipse MRL traction elevator. And the lack of both the shaft and pit, means less construction, less disruption to your life before and during installation, and less permanent change to your home's structure.
PVE Benefits
Space-saving: machine room-less, no shaft, and no pit
Time-saving: installed in usually 2 days
Panoramic view gives riders the sense of openness and space
Less interruption to your life as without shaft and pit construction, there is very little prep work required, only a hole between the floors is required if not installed in a multi-story room like a foyer or living room
Lots of choices for color configurations of frame and glass to match any decor
Depending on the needs of your home, the flexible, no-machine-room PVE unit can be installed with its top open as shown here, or more traditionally enclosed at the top with a vent for air exchange during ascent and descent.
There are so many options for installation. This is the main reason an on-site evaluation is necessary so we can share the options that will best fit your home.
Which MRL Home Elevator Option is Right for You?
Call us to ask your questions or to schedule an informative in-home elevator consultation. We will provide the information you need to confidently weigh the decision of which MRL residential elevator option fits your home and mobility needs.
We look forward to an invitation to your home to provide you with a free, no-obligation quote as well as answer all your questions about how a Machine Room-Less home elevator will fit in your home and serve your mobility needs today and in the future. Call (713) 360 7353.
Free, No-Obligation In-Home Estimates
Contact Us