Home elevator prices at our full-service Houston elevator company begin at $27,000 for an installed traditional traction elevator and hydraulic elevators are slightly more. Installed PVE (vacuum elevators) elevators' prices start at $35,000. These are average base prices for the elevator equipment and its installation.
We offer preparatory work including design services, shaft construction, etc. to give you a turnkey proposal, but pricing related to those services are very specific to the home, your mobility needs, and design preferences, so pricing those require an in-home elevator site evaluation visit.
Why We Can't Give Specific Prices for Elevators
We wish it was simple to publish our home elevator prices so you could easily shop online. There are just too many variables to make that practical other than for new construction. But even with new construction where the specifications are prepared for us prior to installation, the final pricing can be affected by changes along the way made by builders, homeowners, architects, or designers.
When it comes to pricing elevators, often it is your selection of options that determine the final cost to you, the homeowner. Those factors are typically different for every home and homeowner.
We know homeowners like yourself are leery of inviting salespeople into their homes. The in-home consultation is necessary so that we can use our trained eye to determine the options that are possible with your home's architecture. We are not asking for an invitation to your home so we can hard-sell you…quite the contrary. We want to carefully discuss your needs, now and in the future.
How will you use your elevator?
Have you considered in the future that wheelchair use may be necessary?
Can you live comfortably giving up a coat closet or part of a master closet?
Would an external shaft be better choice for your architecture and living spaces?
Do you want a more traditional look or will a vacuum elevator with is modern appearance suit your design preferences?
Lots of questions to ensure that your investment lasts and that your elevator works for you and your family now and in case of unforeseen circumstances. Elevators are not the type of product you can hard sell, but they do require a lot of thought that we can help you walk through and understand your options.
Average Home Elevator Installation Costs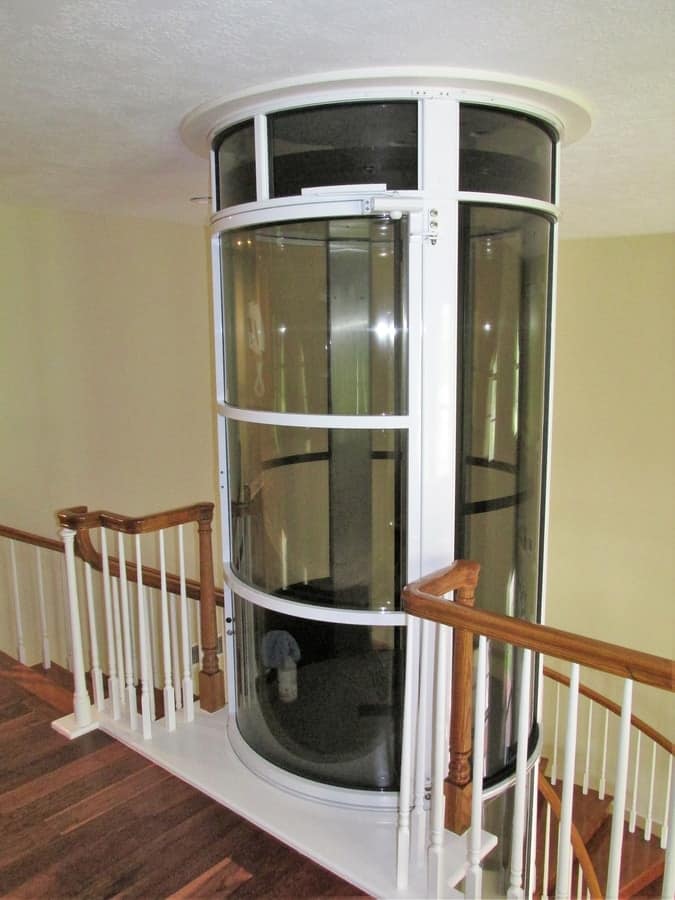 The factors that add to costs of elevators are installation and customization related:
number of floors
custom cab finishes
additional cab entrances
shaft location (interior or exterior)
and amount of architectural modifications.
Permitting, local regulations, and labor cost also affect the costs of elevator installation.
These cost factors should be the same on all quotes you get from elevator companies to ensure you have a valid comparison. Comparing apples to oranges is cheating yourself of true value. Carefully evaluate lower home elevator estimates looking for missing fees such as tax, permits, shipping, and line-item installation fees.
Especially review estimates to ensure they have the same architectural costs like brick, siding, and structural modifications that you want to ensure that the same materials are used on all quotes.
Traditional Home Elevator Cost Factors
Traditional home elevators require significant construction because they are enclosed in a hoistway also known as the shaft. They are highly customizable from the cab décor to the look of the door to the direction of exit and entry on each floor.
Elevator Cab Style & Finishes
Combinations of finish options are near limitless. From standard and upgraded options direct from the elevator manufacturer such as melamine, wood veneer, glass, mirror, and raised hardwood panels to completely custom millwork. These selections affect your elevator budget significantly. We can help you make choices so that they will both fit your budget and look great in your home.
Start dreaming of your new home elevator by experimenting with options using the Savaria Elevator Cab Configurator tool.
Travel Distance & Number of Floors
The traditional elevators we install serve homes with 2 to 6 levels with a maximum of 50 feet of travel per building codes. Hoistway construction costs increase with each additional floor. On average, 2-story installation costs are about the price of the elevator with additional floors an average of $2,000 per-floor for traditional and $9,000 per floor for our Vacuum elevators' aka PVE. Remember, these are general guidelines and in-home inspection will be required to provide exact installation costs for your home.
Type of Doors and Gates
To give our customers as much control over the look and functioning of their residential elevator, we offer a variety of landing door and car gate options. Gates include accordion with a variety of door styles, automatic bi-folding, and sliding commercial grade elevator-style cab and landing doors. See popular options for doors and gates at the Savaria elevator website which is one of our manufacturers.
Additional decision for doors and gates is whether to fully automate them. This is very convenient and increases comfort and safety for wheelchair or walker users.
Pneumatic vacuum elevators and other through-the-floor (TTF) elevator options are newer innovative choices over traditional elevators. They're not right for every homeowner, but when they are, their construction costs are lower including no hoistway/shaft is required. Sometimes they are referred to as shaftless elevators.
The PVE and other TTF elevator options are also smaller than traditional elevators freeing up living and storage space in your home.
The initial costs of the PVE elevators equipment can sometimes be higher, but often they're offset by lower construction costs for existing homes. Another benefit to less construction is a faster installation time with less disruption to the household.
The average price for a good quality shaftless elevator with the capacity most families need will cost around $30,000+/-, but construction for home modifications to fit the elevator into the home are still necessary. If the construction is minimal and materials standard, this can be as low as $4,200-$6,000.
While these more affordable elevators with smaller footprints and faster installation times sound great, this type of elevator has limitations that may or may not be important to your needs:
Style that has few options for changing:

PVE's cylindrical glass shape is very modern which does not fit the style of every home.
Other TTF elevators have a very "stripped-down" look that some think look like medical equipment.

Carrying capacity for PVEs and other TTF lifts is less than traditional hydraulic or traction elevators so it is important to consider how many people will travel in an elevator at a time and their individual weights.
Vertical travel distance

PVEs with a maximum of 5 stops have a lower vertical travel distance than traditional elevators, but still ample for most home elevator applications.
Other TTF elevators are limited to pass through only one floor due to building codes.
Even with these limitations, PVEs and other TTF home lifts can be the right choice for many homeowners.
Make a convenient in-home appointment with one of our certified aging-in-place specialists to discover if a lower cost elevator with faster installation makes sense for you and your home. Call (713) 360 7353.
Free, No-Obligation In-Home Estimates
"*" indicates required fields